Where Are They Now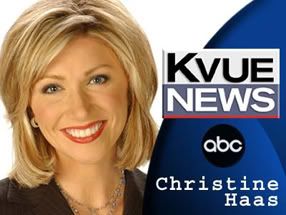 Today we feature former KTHV anchor/reporter Christine Haas.
Haas has worked at KARE 11 News in Minneapolis, MN. She served as weekend anchor and general assignment reporter for the top rated NBC affiliate in the country. Previously, Haas worked as an anchor/reporter at WTSP in Tampa, FL, at KTHV in Little Rock, AR, WUHF in Rochester, NY and KAMR in Amarillo, TX.
In 2002, Haas was honored with an Emmy award for a story focused on the importance of organ donation. In both 2001 and 2002, she received the prestigious Edward R. Murrow award for Best News Writing. Also during that time, Haas was awarded 9 Associated Press Awards for her reporting and writing. She was also awarded 3 "Best of Gannett" awards including one for "Best Anchor/Reporter.
What's Christine doing now? She is currently anchor of the 6 and 10 p.m. newscasts at KVUE in Austin, Texas.