KATV's Morning People
Source: Arkansas Democrat-Gazette KATV, Little Rock's ABC affiliate, is billing the new fourhost format of GMA Daybreak, its a.m. chat fest, as "the morning show that everyone is talking about." We wanted in on the conversation, so we wandered onto the set the other morning.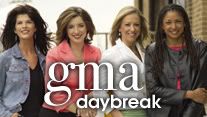 The hour was a quarter of 5. The first of the co-hosts we encountered was Nicole Capri. The show's new organizing idea is to bring together four different women who exhibit different personality styles, so that everyone viewing at home can identify with someone.
Capri's specialty is fun. Her subspecialty is wackiness. Before joining the cast a little over a month ago, Capri had never appeared on television before, let alone earlymorning television.
"I get up at 2," she told us, holding up two fingers. "Beth gets up the earliest," she said, speaking of Beth Hunt, who is the show's serious news reporter. "She gets up at 1:30." She made a "1" with her index finger, then flashed three fingers, then used them to form an "0." Daybreak airs from 5 to 7 a.m., leading into Good Morning America. After finishing her on-air duties, Capri leaves the station for her regular job at the Arkansas Repertory Theatre. The new schedule "is kickin' my booty," she confided in a whisper.
Capri joined her three cohosts at the kitchen-island kind of station that serves as the program's version of an anchor desk. In addition to Capri and Hunt there were Melinda Mayo, who announces the weather and is the show's moral center, and Shareese Kondo, a former Arkansas Democrat-Gazette reporter. Kondo's specialty is smartness. With about a minute until airtime, Mayo briefed the other women on some of the things they'd be talking about. "A toddler died in a day-care van," she said. "Oh, crap," Kondo replied.
The cameras began to roll, and the women reminisced about the previous evening's thunderstorm. "I loooved it," said Capri. The storm was news to Hunt, the reporter. "I didn't even hear it!" she said. (Earliest to rise; earliest to bed.) "I want to sleep like Beth sleeps!" Capri enthused.
As the show cut to a commercial break, we wandered into the control room. It was like the nurse's station in intensive care: dimly lighted and watchful. Producers sat facing a wall of televisions. Some were tuned to competing stations, some to allnews formats, some to the raw feed from the Daybreak set. The producers piped music into the studio to keep the hosts' spirits up. Someone cued up "Funky Town." Hunt responded by putting up her arms like she was lifting weights, or the victim of a holdup, and bobbed back and forth rhythmically.
The show came back from break. The theme of the month's recipe contest was announced: rosemary. "Rosemary?!" spat Dana Bradley, the show's associate producer. "What is rosemary ?" Every time she said the word "rosemary," she managed to sound more and more contemptuous of it. "Who picked rosemary? Rosemary is boring!"
On an average morning, Daybreak is interrupted 16 times for commercial breaks. Bradley estimated the women were actually on camera for about an hour; an additional half-hour is devoted to pre-taped segments and live reports by correspondents. The remaining time is spent on advertising.
After Tuesday's taping, Kondo stopped by the control room to visit with Patrick Green, the show's producer. Like Capri, Kondo is new to television (unlike Hunt and Mayo, who were already with the station and are considered career broadcasters). Therefore, she reasoned that if the new format wasn't working, the newbies would be more vulnerable.
"How can you tell if people are watching?" she asked Green. "My neighbor asked me that. He wants to make sure you can tell that he's watching." Green responded that ratings lagged about four to six weeks behind a broadcast period, so they'd begin gauging viewer response in about a month. "Then we'll know if Nicole and I get to stay," she said. The show's spirit of song-snippetingsnipping grabbed her, and she sang from The Clash: "Do we stay or do we go?"