Where Are They Now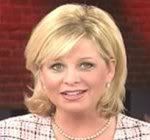 Today we feature Deena Day, 5,6,10 former Co-Anchor (2003,2004) of Arkansas' NBC News 24/51 (now KNWA) Fayetteville

After graduating from Ouachita Baptist University in Arkadelphia, Arkansas, Deena worked in radio for two years before crossing over to television. Deena was a reporter, producer, executive producer and news anchor in Meridian, Mississippi from 1988 through 1995, and then again from 1997 to 2003 when she returned as news director/anchor. (Deena and her husband had moved from Mississippi in 1996 to work in television in El Paso, Texas.) Deena was hired to co-Anchor with Don Elkins in Fayetteville in January 2003, but when Nexstar bought the station, they opted not to renew her contract.

What's Deena up to now? She wanted to stay in Northwest Arkansas because her husband was ill and they have lots of family in the area. She's currently Director of Marketing for Montana Tractors, at the North American Headquarters in Springdale, AR. Montana Tractors, a company co-owned by J.B. Hunt, assembles and distributes tractors to more than 250 dealers throughout the United States and Canada.