Where Are They Now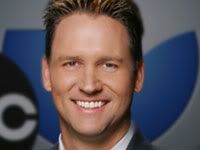 Today we feature former KFSM sports anchor John Hartung.

John Hartung grew up in Woodland Hills, where as a 10-year-old, he would tape record the sports segment on ABC7 in Los Angeles, California, then record his own, dreaming of one day becoming a sportscaster. Now all grown up, John joined the Eyewitness Sports Team in September of 2002 as weekday sports reporter. John graduated from San Diego State University in 1992 with a B.A. in Broadcast Journalism and a minor in Business Management. While at SDSU, he got his first real taste of sports journalism as a writer for The Daily Aztec.

John eventually made the transition to television, and in the summer of 1995, he moved to the heart of "Razorback Country" as weekend sports anchor at KFSM in Fort Smith/Fayetteville, Arkansas. Eight months and one huge tornado later, he took over as primary sports anchor. Hartung was honored by the Arkansas Associated Press for Best Sportscast, Best Sports Reporting and Best Sports Special.

In August of 1999, KSWB in San Diego lured John back home to Southern California to be the sports director and 10pm anchor. While there, he won a Golden Mike for Best Sports Segment and an Emmy nomination.

What's John doing now? He is back where he started, at KABC in Los Angeles where he is a sports anchor.