Where Are They Now
Former KSLA reporter Barry Simmons is in the spotlight.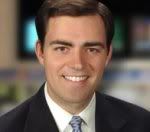 Simmons has Barry worked at KSLA-TV in Shreveport, Louisiana, and KOMU-TV in Columbia, Missouri. During his two years reporting at NBC affiliate KOMU-TV, he also fit in a couple semesters freelancing for The Washington Times and interning for Dateline NBC's Washington, D.C., bureau.

What's Barry doing now? He is a reporter at WTVF in Nashville, TN.