Where Are They Now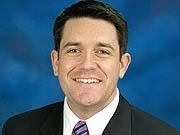 Where Are They Now is back and today we feature former KTHV'er Chris Shaw.

Out of college Chris worked as a reporter for KMOT in very cold Minot, North Dakota. After almost a year there, it was south to Cape Girardeau, Missouri and KFVS for more than two years. The next couple years I reported even farther south at KTHV in Little Rock, Arkansas.

Chris was born and raised in St. Louis and stayed there for college, graduating with a broadcast journalism degree from Webster University.

What's Chris doing now? He is a reporter for WXIX in Cincinnati, Ohio.