Where Are They Now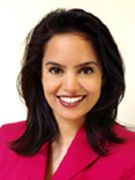 Today we feature former KATV reporter Beejal Patel.
She grew up in Chicago, and graduated from the University of Missouri with degrees in Political Science and Journalism. She's worked at television stations in Lansing, Michigan; Lubbock, Texas; and Little Rock.
What's she doing now? After leaving KATV in late 2004, she found a home at New England Cable News, where she is a morning reporter for the network.