KATV's Puppy Picked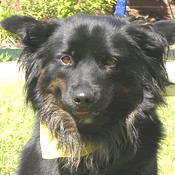 Source:
KATV.com
Well it looks as though KATV viewers have picked the puppy it wants to be the gma Daybreak mascot. NOW KATV want's suggestions for a name. KATV has adopted the puppy pictured above from the Pulaski County Humane Society. The puppy is an Aussie mix; 2-years old; female; black with brown highlightsLikes to ride in car, sits, leash broken, crate trained, Loves everyone, especially children.


Viewers have 5 names to choose from
for the puppy's name. They are: Daybreak, Newstar, Katy, Lucky and Seven.
I was kinda hoping KATV would take viewer suggestions via e-mail. I think Twister would have been the perfect name.